First Call Truck Parts Services
Hydraulic & A/C Hoses Building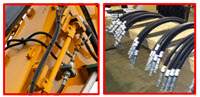 Our service centers can cut, assemble, crimp, test and label virtually any type, quantity or length of hose you need.

Cut down on site down time. Enjoy our special pricing for re-hosing your entire machine to prevent unexpected hose failures

Set up a visit and we will help you design your hydraulic system with the correct hose and fitting application for your new product. Does the hose need a part number label? We do that.

Don't miss deadlines do to a hydraulic hose failure. Schedule a visit and we will inspect and replace hydraulic hoses that are most likely to fail during your next big job.
WebPower 2.9.6 © Copyright 2023 AutoPower Corporation. All Rights Reserved.